Low Risk Tennis Trading Course (2020)
Proven Tennis Trading Strategies to use on the Betfair Exchange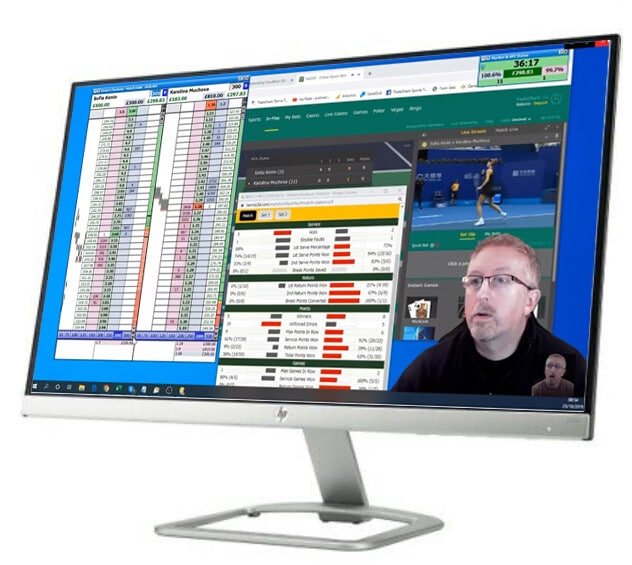 Simple Strategies. IDEAL FOR BEGINNERS
Learn how to trade tennis and make money on the Betfair Exchange. This low risk tennis trading course is a complete guide with the best proven tennis trading strategies to take you from total beginner to confident tennis trader
You will receive 1 to 1 support from a Pro trader. My powerful teaching style will show you the tennis trading secrets to becoming a successful tennis trader.
Tennis is a great sport to trade. The price swings can be huge. I will show you some awesome strategies to make money consistently from those price movements.
"In our opinion, there isn't a tennis trading service out there to even come close to rivalling TradeShark Tennis." – Goalprofits.com
I was able to leave my job
I now trade tennis full time from home
This best selling Tennis Trading Guide will give you the skills required to make an excellent second income.
Get a full time sports trader as your mentor for life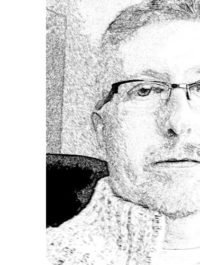 Paul Shires a.k.a. TradeShark
Hi, I'm Paul Shires. I make my living trading the Betfair tennis markets.
I heard about Betfair trading in 2008 and quickly came up with strategies to make money from the tennis markets. I learned quickly despite having to use trial and error and developed more effective strategies. In June 2010 I left my job and now trade on the Betfair Exchange for a living.
More info on my blog's "
About TradeShark Page
"
Betfair is a betting exchange similar to a bookmaker. The big difference is that as well as being able to back a player to win you can lay a player to lose.

Tennis gambling is a tough way to make money but tennis trading gives you much more control and is less risky.

The prices of the players change during the match. By using backs and lays at different prices during a match we can get a profit on both players. Then we don't care who wins and we move on to the next match!

My tennis trading course will teach you how to do this so you can make consistent daily profit.
"Well, when we talk about tennis trading we don't have any other serious options other than Paul from tradesharktennis.com. I have known Paul for a few years now and I have two words for him : serious and respectful. Anyone trying to start tennis trading would be wise investing a small amount to be a member on his site." – Marius, Romania
Learn the tennis trading secrets!
– Understand how the Betfair price is affected by what's happening on court
– Make a trading plan on how you will make profit from a tennis match.
– Decide which trading strategy is suitable for the current tennis match.
– Use low risk trading techniques
– Manage your trades if the match does not go as expected.
– Spot when a player offers us "value" and choose appropriate stakes.
– Know when to take your current profit and when you can let the trade run.
– Know how to manage your trade to allow you to let it run for longer.

What is low risk tennis trading?
Before we enter a trade we must assess the "RISK versus REWARD". If the risk is too high compared to the potential profit then it is not a good entry.

There are many situations in tennis matches where the potential loss is fairly low and the potential profit is high. These are the trading opportunities that we are looking for.

With the help of my Betfair trading course and also my one to one support you will be able to spot these opportunities quickly and place your trade.

Low risk trades do not guarantee a profit every time but in the long term the profits far outweigh the losses.

Ideal for beginners or traders experienced in other sports
Just one amazing low price for LIFETIME access
FREE course updates
Simple trading strategies
Support from a pro trader for as long as you need it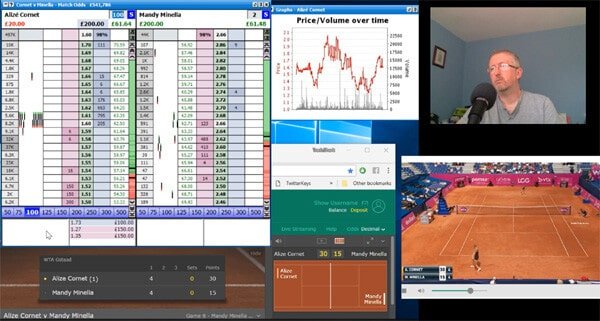 "In a business full of sharks who sell their scams, Paul is a good guy and his live chatroom on its own is worth the money. I call it the "University of tennis trading", You can learn a lot of things and understand the thoughts behind a long term full time tennis trading man. " – Paolo, Italy
Simple Tennis trading strategies
Trading tennis doesn't have to be complicated. I will teach you the right thing to do in many in play situations. As you gain experience your decision making will almost become second nature. If we keep the strategies easy to understand then selecting our entry point becomes simpler.

The entry point is the most important part of your trade. If you get that part right then the rest is much less stressful. Get it wrong and you leave yourself with a lot more work to do.

I will teach you what I have learned since 2008. You will find out exactly how to consistently make a profit from trading on tennis matches. I have been helping people to make money with simple, proven strategies since 2009.

My popular Betfair trading course is perfect for beginners but the support you will receive will be useful to even experienced traders. I will take your tennis trading to the next level.

This isn't a get rich quick scheme. It takes practice to become consistent at anything in life. I will be with you every step of the way and I offer lifetime support with your one time payment.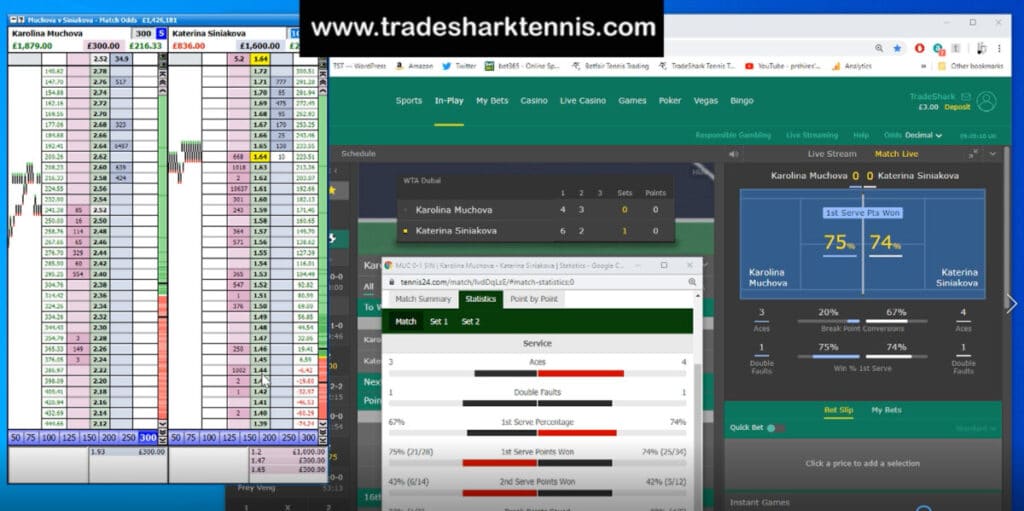 Tennis Trading v Tennis Betting
Profits are hard to come by through straight betting on tennis matches. Matches can turn around very quickly and what looked like a safe bet can easily become a loser.
When trading tennis on Betfair we are able to manage our position and can even switch sides in play (during the match). Using a trading strategy gives us the opportunity to limit losses on what would have been a losing bet and can even let us come out with a profit after initially backing the losing player.
I will show you strategies that have been proven to work.
"Tradeshark and his instructions were my starting steps into the world of tennis trading. There was not a question I could not ask him and not one of them was left unanswered. I will always be grateful for his patience and advice. He showed me what tennis trading was really all about. The experience and knowledge I acquired during long sessions in his chatroom are unparalleled!" – Marko Bukovnik
Tennis matches can go on for hours!
I often get asked if it is necessary to trade full matches. The short answer is "No". It is true that tennis matches are rarely less than an hour long and can go on for several hours. As our aim is to get a profit on both players, once we have achieved that we don't care who wins and can leave the match. The length of time it can take will vary a lot but can be anything from a few seconds to the length of the entire match. The average will be around 10 minutes to half an hour.
Betfair Trading Course
Learn how to trade tennis matches with effective strategies for consistent daily profits
Everything the new or experienced tennis trader needs to improve their results.
Not many Betfair tennis trading services are still around after a decade. This course is constantly being updated by a trader who is involved in the tennis markets every day. The last update was in June 2020

TradeShark is a name you can trust
I have 30 years of experience of training and coaching others and can tweak the online training course and strategies to suit you. Keep me up to date with how your progress is going and I can significantly speed up your learning process.
I'll help you to avoid a lot of those painful rookie mistakes that can wreck your confidence. It's time to work smarter.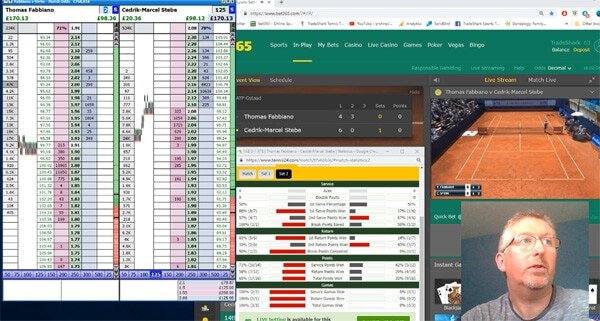 So how DO you trade on tennis?
What does trading on tennis even mean? The price/odds of a player on Betfair will change based on how they are performing in the match. As you get to know the players and how they behave or react in certain situations you will know when to enter your trade. Maybe they are a player who is great under pressure or perhaps they tend to get tight and nervous when trying to hold serve to win a set or to win the match.

There are patterns of play in tennis matches and we can take advantage of these patterns. You will learn what those patterns are and also what the "right thing to do" is for us to make a profit from them.
"… provides a comprehensive set of materials that teach key concepts of tennis trading at a phenomenally good value price" – Paul Fryer
If you have been reading about Betfair trading you will no doubt have seen the term "value". At every moment in the match there is a mathematical price that the player should be at. It is determined by the score but there are always times in a match when the mathematical price does not match the player's true chances of winning.

That might sound a little complicated if you are new to trading but it basically means that the player is either priced too low or too high. If a player is priced too high then they are said to be at a value price. In the same way if they are priced too low then they are also said to be at a value price. If you consistently enter trades at value prices you will make money.
Betfair trading software. Do I need it?
Many people trade tennis using just the Betfair website. However using trading software makes things easier.
Any of the software options that have a ladder interface are fine for tennis. You don't need most of the tools that they all have. Just a simple ladder interface.
My own favourite is The Geeks Toy but Bet Trader, Fairbot and Bet Angel will do the job well. They all offer free trials and also a practise mode that lets you trade the markets without using real money.
Patterns in tennis matches
Tennis matches are full of patterns. When you know what these patterns are you start to see them for yourself. This makes entering a trade easier and some of the patterns and some of them become automatic entry points. By that I mean that when you see the pattern there is nothing to think about. It's a "no brainer" trade.
There are several ways to trade on tennis. Two of the more popular methods are:
When we scalp on tennis markets we are making short term trades. We might only be in the market for 3 or 4 points or we might stay in for a game or two. If you have the right strategy this can be a safer method of trading tennis as you are not going to get caught out by a huge price move against you.
This method is my personal favourite. Knowledge of the players helps with this but knowing when a player is at a "value" price is the real key to this trading strategy. Don't worry, that is all explained in the trading course! For swing trades on tennis matches we stay in the market for much longer than for scalping and we might be in the market for a few games, a set or even longer.
Simple Betfair trading strategies with demo videos
The purpose of the trading course is to help you to learn how the markets move. The best way I have found to do this is to break trading down into simple techniques. By using these techniques you will become familiar with the tennis markets and will be able to match your trading plan to the match situation.

There are also beginner strategies that are designed to get new traders involved in the markets. I also include my favourite tennis trading strategy that I use EVERY day.
"More than happy to recommend the service offered by Paul. Ever helpful and offers a great service for the members, especially for the cheap lifetime membership price!" – Steve
Everyone is different! For most people Betfair trading is unlike anything they have seen before so it can take a little while to get your head round it. When I was learning no one wanted to help so it was all learned by trial and error. When you learn to trade tennis it is best to take things slowly. If you try to rush it you are more likely to make mistakes. That can wreck your confidence.
Info on the top 100 players and their characteristics
Tennis trading gets easier as you get to know the players and the way they behave and react to certain match situations. I provide you with some info on the top 100 ATP and top 100 WTA players to get your knowledge started. I update them each December.
"Paul really knows his stuff – there's no waffle or empty promises, just good direct trading advice (what do you expect from a Yorkshireman?) that you know comes from an expert, but is easy to follow." – Dylan Younger

I also have a daily Betfair Trading Tips email service. I send you information, stats and advice on all the day's matches. Subscribers get emails 7 days a week.
Get the Trading Tips emails FREE for 10 days!
Either accept your current situation or do something about it
It's time to make the change in your life to make that extra cash a reality. Let me help you to do exactly that
"…you have one of the best trading products on the market and you price it way too cheaply for that! " – Graham Laurie from the Cashmaster blog
Get your Course NOW!
Select your preferred product from the drop down menu next to the payment button
One time payment. No monthly subscription
Buy TODAY and get 10 days Trading Tips emails FREE
Tennis Trading Guide
Lifetime membership including
FREE course updates.
Includes the Betfair Tennis Trading
Tips emails FREE for 10 days
£38.95
Bundle Offer
Trading Guide plus 2 months
of Betfair Tennis Trading Tips emails
Save £30
(Trading emails are usually £20/ month)
£48.95
Amazing value!
"The Tradeshark trading guide is fantastic value in my opinion, I wish I'd discovered it much earlier. Totally recommended" – Laurence Coleman
What happens after I buy the course?
You should be sent to a "Thank you page". In case you are not forwarded there I will also send you an email. The content of both the Thank you page and the email basically asks you to register a username at
my Betfair tennis trading blog
Anyone can register a username so I need to manually give the username access to the members pages where you will find the Trading Course/Guide. Please email me with your username so that I can get you set up as quickly as possible.
I will then send you instructions on how to access the content.
Tennis trading is about common sense and hard work. I work with you for as long as you need me. This will really develop your trading. There are also Telegram and Skype chatrooms which many people find useful as we have a good mix of new guys (and a few new gals!) and experienced traders. It is a very friendly group who all try to help each other with tips and ideas.
If you have any questions on low risk tennis trading strategies then please email me
Ask me anything!
Please note that there is no trading strategies pdf or TradeShark tennis trading guide pdf. The tennis trading course is delivered as a website as I am constantly updating the content. I want to make sure that members are using the most up to date version.