NEW SECTION ADDED TO THE MEMBERS' AREA
"What do I do if....". Scenarios and how best to deal with them (including how to manage winning positions)

Want to make a second income?
Like sports? Like betting on sports?
STOP BETTING AND START TRADING!
I have 9 years' experience of trading tennis on Betfair!
I aim to have profit on both players before the match ends. Then I don't CARE who wins!
My Trading Guide Includes the strategy I use the most every day!

Questions? tradesharktennis@gmail.com

IMPROVED OFFER!
TradeShark Trading Bundle!

Full time trader as your mentor

Common sense approach

Player notes and characteristics

FREE stats spreadsheets

No BS

PLUS

2 months access to my popular

TradeShark Daily Trading Advice Email!

Info and trading advice on EVERY main tour match

7 days a week!

***After the 2 months the emails will stop. If you wish to continue to receive them you will need to subscribe at £20 per month. This DOES NOT affect your lifetime membership to the Trading Guide

***I work with you from day 1 to speed up your learning and I guarantee you will not find better customer service either online or offline!

My background before getting into trading was highly focused on training /coaching so I am better able to improve your understanding than most ***

Work with me!

Daily Trading Advice Email

Previews and trading advice for all the day's matches

So what's included?

The screen shot shows a sample of a document. The headings are:

WaS - indicates the Wins a Set selection

Rank - player's overall ranking

S Rank - player's ranking on the specific surface

Pin - price on Pinnacle at the time of download. This is just for reference

BF - Betfair price at the time I did the document

TS - What I would price the player at

MY FAVOURED TRADES HIGHLIGHTED

There will also be my comments on the match. Please note that I discard some matches. If it is just a short priced favourite that I expect to walk the match thee may be no comment but if I have decided to leave a match alone because of something I found during research I will enter the reason.

I will make every reasonable effort to get the advice sent out before the first match of the tournament. If there are multiple tournaments on I would rather send all tournaments info out at the same time but this isn't always possible depending what timezone they are in.

I do an advice ducument every day but if circumstances don't allow it I reserve the right not to provide one every day.

You will receive an email with a download link each day.

Trading Guide

INCLUDING!

Brief notes on the top 50 ATP and top 50 WTA players. Useful if you don't know the players yet! Add your own notes as you get familiar with them.
PLUS
ATP and WTA stats spreadsheets FREE including FREE updates.
SKYPE Chatroom where we share tips and advice.
"...you have one of the best trading products on the market and you price it way too cheaply for that! " - Graham Laurie from the Cashmaster blog
If you're looking for a product/service that takes your money and leaves you to get on with learning on your own then you've come to the wrong place.

If you want a service that takes you through those tough early learning months and doesn't think that any of your questions are stupid ones then this is where you need to be!

I don't just sell you a Guide and I won't try to "blind you with science". Other services will try to trick you with fancy words and "magical" statistics.

Trading tennis is about common sense and hard work. I work with you for as long as you need to develop your trading. There is also a members' in play chatroom which many people find useful as we have a good mix of new guys (and a few new gals!) and experienced traders. It is a very friendly group who all try to help each other with tips and ideas.

If you have any questions please email me at info@tradesharktennis.com

Please read on for more detailed information.

"The website has loads of strategies and videos. A great introduction to tennis trading. Paul is always ready to answer queries or questions and give advice. Customer service excellent." - Clive Holland
Site constantly updated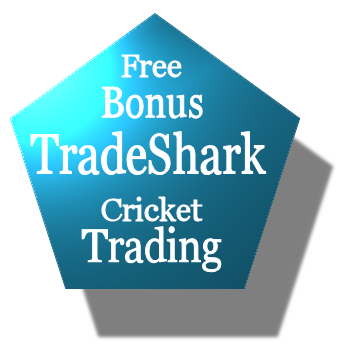 Tennis is ideal for trading

The tennis season lasts about 11 months of the year with the off-season being throughout December. Every week there is at least 1 tournament from either the ATP Tour (Men) or the WTP Tour (women).

ALL ATP and WTP matches are In Play markets on Betfair. This means you can place back and lay bets during the game.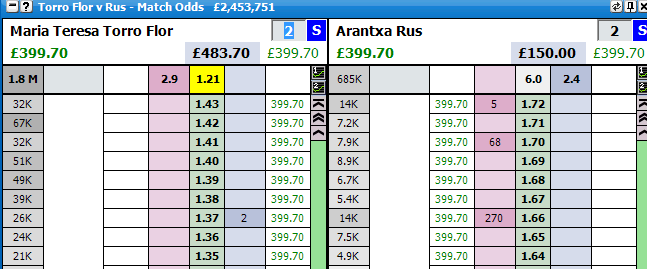 ***The purpose of the Guide is to help you to learn how the markets move. The best way I have found to do this is to break trading down into simple strategies. By using these strategies you wil become familiar with the tennis markets and be able to match your trading plan to the match situation***

"More than happy to recommend the service offered by Paul. Ever helpful and offers a great service for the members, especially for the cheap lifetime membership price!" - Steve
The Tennis Trading Guide contains:
- 2 strategies suitable for new tennis traders

- Several other strategies to suit different match situations

- All strategies include a video of me using them for a profit

- General advice section on tennis trading

- Unlimited email support and advice

- Members Only In Play Chatroom

- Player notes on the top 50 ATP and WTA players

- Statistics spreadsheets for all ATP and WTA players with FREE updates
All the information is delivered to you as a website. I have chosen to do things this way so it's easier for me to keep the site updated and also so that you don't have to pay for any updates as you do with normal ebooks!

"The Tradeshark trading guide is fantastic value in my opinion, I wish I'd discovered it much earlier. Totally recommended" - Laurence Coleman
To learn all the information that you get in my Trading Guide by trial and error will take you years.

Let me speed up your learning process by sharing my knowledge and guiding you through what will become an enjoyable hobby. In time it can become a worthwhile second income and maybe more.

The green figure under each player's name is the profit if that player wins the match.

"Tradeshark and his instructions were my starting steps into the world of tennis trading. There was not a question I could not ask him and not one of them was left unanswered. I will always be grateful for his patience and advice. He showed me what tennis trading was really all about. The experience and knowledge I acquired during long sessions in his chatroom are unparalleled!" - Marko Bukovnik
Screenshot from The Geeks Toy trading application


Beginner's Strategies
Included in my guide are two excitingly simple strategies that a beginner can use pretty much straight away. In these strategies I give you the exact point at which to enter a trade and the exact point to exit the trade. Also I have taken any decisions away from the novice trader with very basic, easy to follow instructions on what to do if the trade doesn't work the way we wanted. By following my very simple rules the risk to your trading bank is kept very small.

***the purpose of the beginner's strategies are to help you to get involved with the markets and learn how they react to what is happening on court. They are not intended to allow you to make a worthwhile income on their own***
I have shown these strategies to many novice tennis traders and they have all loved them!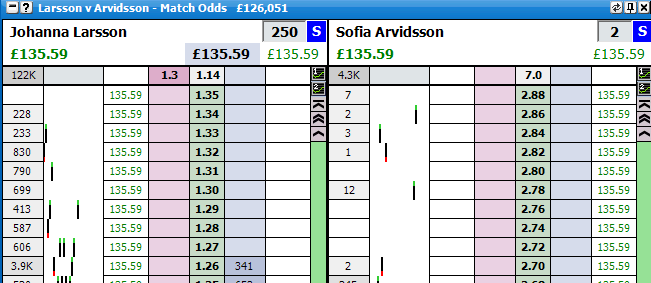 With each strategy I have included a video of me using the strategy so you can see how it works.

Something that is vital in any trading strategy is to know what to do when a trade goes against you. Included in the guide is a step by step account of how I manage this exact situation. I have also included a video of me using my "Halfs and Doubles" strategy for when a trade goes wrong.

Please be aware that I provide you with the information and strategies that you need to profit consistently from tennis trading. However you will need to put some work in yourself. This isn't a magic wand get rich quick system. To make good money consistently will take time and practice. To speed up that learning process you should make use of our free Trading Forum and Chatroom, especially during matches. I have laid down strict but basic rules that the experienced traders must help new traders. As a result we have a very friendly community with a good mix of new and experienced traders who are all willing to help
In addition to the strategies and tutorial videos you can email me directly to request an overview or advice on an upcoming match. I will respond to all emails personally.

You can also email me with any questions about Betfair trading in general.

"Whether you're an experienced sportstrader or a complete novice it's an absolute no brainer to join Tradesharktennis, Paul is one of the very few good guys and certainly not simply another shovel seller, if he was he'd sell his services for a hell of a lot more than he does. The chat room alone is worth the lifetime subscription with its wealth of experienced tennis traders always on hand to offer help and advice to beginners, but this service offers much more than that with videos and strategies that will set you off on, or keep you on the right track." - Mike Coggan

ONLY UK and NON EU customers can use this Paypal payment link.

Customers from EU countries please scroll down for your payment link

ANY PAYPAL PAYMENT FROM AN EU COUNTRY WILL BE REFUNDED AND AN EMAIL SENT DIRECTING THEM TO THE CLICKBANK PAYMENT BUTTON

Click on the first payment option below for access to the Tennis Trading Guide which includes a strategy suitable for novice traders PLUS 1 month's daily trading spreadsheet.

Please note after payment I will receive a notification email and once I have checked your payment you will be emailed a link to register a username. Please let me know your username and I will give you access to the members only pages which contain the Trading Guide.

Email your username to tradesharktennis@gmail.com

Please also note that my Blackberry is never far from my side so unless I am asleep you should get a quick response The email will contain a link and some email clients class that as spam so check your spam folder. This happens mostly for gmail accounts. I make every reasonable effort to send the link as soon as possible and it will be very unusual if you don't receive it very quickly after payment.

£39

ONE payment only. NO monthly subscription
EU CUSTOMERS' PAYMENT LINK
EU customers can get all of this for a one off payment of just
£39 plus vat
one time payment via CLICKBANK
Click on the payment link below for access to the Tennis Trading Guide which includes a strategy suitable for novice traders and also get 1 calendar month's access to the Daily Trading Spreadsheet..

Please note after payment you will be taken to my "Thankyou page" with instructions of what to do next. There is a link for you to register a username and then email me with that username so I can give you access to the Members page which includes the Trading Guide and also to add you to the distribution list for the daily email. If you are not sent to my Thankyou page or you have any questions please email me at info@tradesharktennis.com or tradesharktennis@gmail.com

Once I have your username I will give the username access to the Members Only content. I make every reasonable effort to send the email with instructions as soon as possible and it will be very unusual if you don't receive it very quickly after payment (unless it is the middle of the night in the UK)

£39 plus vat

ONE payment only. NO monthly subscription

Please note: Anyone abusing the Clickbank refund procedure will be reported to Clickbank with a view to getting the abuser banned from being able to purchase via Clickbank in the future. I have already been successful with this.
Questions? Please email me at info@tradesharktennis.com or TradeShark@aol.com or tradesharktennis@gmail.com
** If anything in the Guide or Daily Trading Advice emails needs further explanation then please email me so I can help you to get the most from your membership. You are getting exceptional value for money.